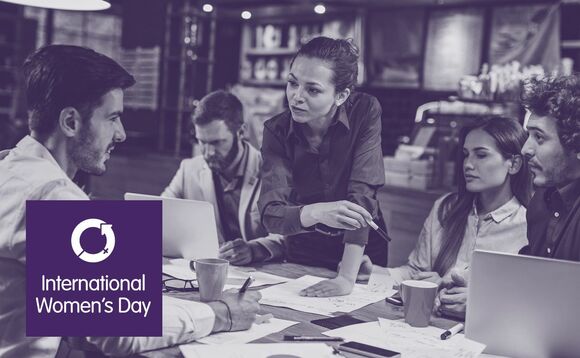 The theme of this year's IWD 2022 campaign is #BreakTheBias.
What does this mean to you?
The IWD charity says this being more aware of deliberate or unconscious biases in society and the workplace, which makes it more difficult for women to move ahead.
I was one of the founders of sister site CRN UK's Women in Channel campaign back in 2018, a year after a change in the UK Equality Act mandated that businesses with more than 250 employees publish their gender pay gap data.
I explained my rationale as an editor in a podcast on the subject with Pan-European tech distributor Distology here.
Back then, it was a twitchy subject for some in our industry.
And I found that to be the same in conversations with tech leaders across the continent and the US.
Some senior women were sick of talking about gender imbalances in our sector, asking "Can I just be seen as a senior channel leader, not as a senior female leader?"
Meanwhile, some male responses ran the gamut of polite muted interest to "When is there going to be a Men in the Channel Awards?"
Cheeky, perhaps. But the point is that for many in the channel, this was not their issue.
To me, IWD 2022 Break the Bias is, in part, about breaking that association of women's issues - or an International Women's Day - with being only a woman's issue.
Progress
I welcome the fact that over the past four years colleagues and I have seen that there has been a growing interest in representation in the channel: a sincere one.
And a widening set of interactions between stakeholders and the fresh pipeline that is vital to the future growth in our industry.
Senior leadership across Europe has become involved.
And this is key.
Because it is in the top quartile of businesses where the real power and decisions that affect work culture and accessibility are made.
When Joyce Mullen became chief executive of global services giant Insight in January this year, for the first time in history it could be said that the CEOs of three of the four biggest global resellers are women.
The reason this matters is that it's a tangible sign of the dial moving - of the momentum of talks and roundtables having a easily measured indicator of progress.
However, as Mullen herself has noted, among the Fortune 500 companies, she currently stands as one of only five female tech CEOs.
Covid-19 and women working the 'double-double shift'
It seems inescapable to write about work culture in 2022 and not mention the influence of the Covid-19 pandemic.
From a procurement standpoint, the buzz trend is clearly hybrid work, and the stellar work done by many partners across the US and Europe to enable critical infrastructures in our respective countries to continue at pace under the most trying of circumstances.
Yet, looking within companies, and the stories of how many employees have had to adapt to make this work possible, the trend that has emerged is less triumphal.
Early into the pandemic, Facebook COO Sheryl Sandberg coined what she called the "double double shift".
She warned that the coronavirus pandemic was leading to a creeping regression for working women, with many shouldering the majority of expanding domestic requirements - home schooling children being chief among them - while also tending to their full-time jobs.
Subsequently, a plethora of studies have found that this is the case in multiple markets around the world.
Unconscious bias within households has been put forward as a possible reason for this.
But whatever the factors in individual cases, CPI has found that in the past two years more and more vendors and partners have spoken to us to say they have also seen this in their workforce and have taken steps to try and avoid burnout as a priority.
Where next?
The channel is known for priding itself as being forward looking.
And to that end, I've pulled out a few snippets from one of the most detailed pieces of thought leadership I've seen in the run-up to IWD this year.
It's from Andrea Babbs, head of sales UK & Ireland at VIPRE Security.
What made it stand out to me was that it's focused on detailed suggestions right from the get-go, talking about what can be done now to help the tech sector overcome some of its most persistent challenges: factors that are shaping the world of work.
-On Engineering and the bias of what is 'a man's job'
Babbs starts by saying that it's important for the channel to challenge biases on what is a man or a woman's job early on.
"Even at the very beginning of a 'tech' based career pathway, a woman's success is already limited," she writes.
"Females make up only 28 per cent of the workforce in science, technology, engineering and math subjects (STEM), and are systematically tracked away from these subjects throughout their learning, and pushed towards written and creative arts, narrowing their training and potential positions to go into these fields later in life.
"Additionally, females who have been successful in entering the industry often receive different treatment compared to males who work in technology, and can occasionally be mistaken for having a less 'dominant' role.
"Another VIPRE colleague, Angela, who has been a Support Engineer at VIPRE for over ten years is still asked to put people through to an engineer on the phone - as it is perceived that as a woman, she can't be one herself, despite having over a decade of experience. These stereotypes can therefore discourage young women from entering the field and diminish the accomplishments and self-esteem of those already in it."
In her view action needs to be proactively taken by businesses, rather than leaving tackling pipeline stereotypes to schools and universities alone.
-On the challenges to men that affect work-life balances
"To ensure that women gain equal footing in stereotypically male-dominated industries, there is an often-overlooked factor - men need equality too.
"Businesses need to offer the same level of paternity leave and support to men as they do women when it comes to looking after a family. This then leads to the need for flexibility within working hours for school runs, for example, as it needs to be understood that men have children too, and women are not always the number one caregiver.
"For example, my husband received more questions about taking time off if our child was unwell than I ever did. He was constantly asked of my whereabouts as if it was my sole responsibility to look after our child, not both of us. Ultimately, the debate here is not just that there needs to be more women in cybersecurity and technology, but that workforces must have diversity within them."
On addressing the impact of Covid-19 on work
"Each business has a part to play when it comes to ensuring that their organisation meets the requirements of all of their employees. From remote or hybrid working, reduced hours or adequate maternity and paternity support, working hours should be more flexible to suit the needs of the employee.
"A "return to work scheme" would greatly benefit women if companies were to implement them. This can help those who have had a break from the industry get back into work - and this doesn't necessarily mean limiting them to roles such as customer support, sales and marketing. HR teams must also do better when it comes to job descriptions, ensuring they appeal to a wider audience, offer flexibility and that the recruitment pool is as diverse as can be."
She added: "Setting up the Cyber Security Skill strategy, the government has started taking action. Businesses themselves have also started to enforce programmes to support those with gaps in their CV's and are eager to return to their careers, such as Ziff Davis's Restart Programme.
"This programme is committed to those who have a gap in their experience and are keen to return to their careers, providing them with an employment opportunity which emphasises growth and training, helping professionals return to the workforce. When businesses step up and take matters into their own hands, it provides more available paths into the industry for everyone."
A happy International Women's Day to you all.
From Nima Sherpa Green and the team at Channel Partner Insight.