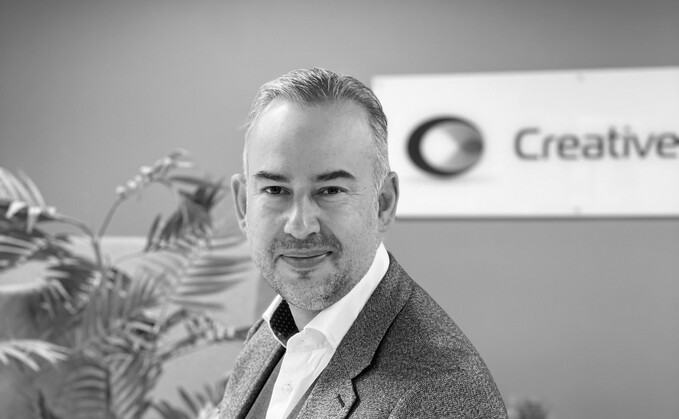 As we come to the end of the year, we are profiling some of the most successful channel firms in our market to talk to leadership about their 2022 highs, and to ask what's in store for the next 12 months.
Creative ITC is a leading UK IT infrastructure and cloud enablement consultancy.
It was recently singled out by industry judges working with our sister site CRN UK to be included in this year's Channel Awards shortlist for Reseller of the Year (sub £100m turnover).
Its Group MD Keith Ali spoke to us to share his insights into the company's strategic direction, growth and profitability.
He was previously head of technical strategy at Cisco, and has spent almost a decade overseas running IT departments throughout APAC and the US.
What did being highlighted in the shortlist for a CRN UK Channel Award mean to you?
Being named on the shortlist for the Reseller of the Year Award is a milestone in Creative's 20 year journey.
The last five years have seen the business triple in size to the point where we're actually now in contention for an award that was previously beyond our reach. That's an achievement in itself.
As we all know, channel businesses are a team sport, not an individual effort. A company is made up of many elements - people, services, systems and policies, to name but a few. Everything has to be right, with everyone pulling in the same direction for it to be successful.
The Reseller of the Year title would be a fantastic validation of what the Creative team has achieved together, pointing us firmly in the direction of future success as we embark on the next exciting phase of our growth journey.
What have been your highlights of 2022 so far?
While I'm immensely proud of Creative's continued growth, the achievement that really stands out for me does so not because of the financials involved.
Yes, our contract win with SNC-Lavalin was our company's largest deal to date - but more importantly for me, it's also clear evidence that our business strategy is paying off.
We've carved out a niche in the Architecture, Engineering and Construction (AEC) sector, developing a portfolio of solutions tailored specifically to help companies meet a unique set of industry challenges.
I'm incredibly proud our approach is taking Creative from strength to strength. Our unparalleled AEC expertise enabled us to take on the big boys in this competitive deal. SNC-Lavalin saw the value of partnering with Creative, choosing David over multiple industry Goliaths.
Of course, none of our successes would have been possible without the strong team we've established at Creative. From day one, we set out to build a team that really cares about helping our company and our clients flourish. So, one of my highlights in the past year was for Creative to achieve no fewer than four Best Workplaces Awards.
Voted for by our employees, Creative ITC was listed as one of the UK's Best Workplaces by the global authority on workplace culture, Great Place to Work.
We were also named among the Best Workplaces for Wellbeing, Women and Technology in the country. Being recognised independently for our standout culture is a fantastic achievement as we look to scale our business.
What's the most interesting industry trend you've noticed this year?
People make companies, and I'm hugely proud of the talented team we've built at Creative. But, growing this team has become harder and harder over the past year.
Attracting and retaining the best talent is more challenging now than at any time I've witnessed across my years in the industry.
It's not that the talent pool has evaporated; far from it. If anything, more and more people are being attracted to careers in IT.
Technology rocketed up the corporate agenda in every industry sector during the pandemic, creating a wider range of opportunities for people than ever before, and also altering ways of working, probably forever.
The new reliance on technology is great for the channel, right? But, it's also brought many fresh challenges. The new age of remote working is both liberating and demanding.
We've all had to find inventive new ways to maintain team culture and wellbeing while working apart.
And, while the new focus on work-life balance and wellbeing is welcomed by both existing employees and jobseekers, workers' expectations of employers have evolved a lot over the past year or so. The balance of power has shifted with high demand for new talent as the industry continues to grow.
The new wave of people entering our industry have greater opportunities and expectations of their jobs, salaries, lifestyles and employers than ever before.
With more opportunities than people, they're in the driving seat, often enjoying a choice of job offers, and they simply jump ship if they're not happy. Such is the demand, they can often seize higher and higher salaries with every move.
Salary has always been a broad measure of skill and experience - in simple terms, those commanding higher salaries tend to have the talent and experience to warrant them, with less experienced candidates generally having lower earning potential.
Now rising expectations of entry and mid-level candidates are narrowing traditional salary bands, making recruitment and selection across the technology sector harder than ever. The waters have become muddied, making it increasingly difficult for channel businesses to pan for gold among the rocks.
Creative is by no means alone in this - it's a hotly debated issue across the channel, one that's widespread and certainly not sustainable. It's not an easy nut to crack, but rather than us scrapping against each other, upping bids to snap up the latest individual, we need to work together across the channel to find a solution that will work for all.
How has your partner strategy evolved in 2022?
Growing demand for IT systems that are easier and cheaper to own and manage is fuelling the growth of MSPs. At Creative, we've built a strong portfolio of award-winning managed services and are continuing to develop more tailored, scalable solutions. In response to growing channel demand, we've launched a new partner-focused arm to support the growth ambitions of other resellers and service providers.
Partnering with Creative will enable them to extend their current portfolios with new solutions and services. They can also supplement their teams with additional technical support and expertise in fast-growing cloud technologies.
With cloud adoption showing no sign of slowing, many VARs and MSPs aren't in a position to do anything other than offer clients public cloud solutions.
By partnering with us, they can extend their services to include Creative private cloud solutions, as well as benefitting from some of the best cloud experts in the business offering fully managed public, private, hybrid and multi cloud options.
Hyperscalers Amazon, Microsoft and Google continue to dominate the cloud market, accounting for approximately two thirds of global cloud revenues (excluding China) and growing at a faster rate than smaller cloud providers.
So, it's no real surprise that vendors are increasingly focussing their efforts on public cloud technologies from these three big players. We've seen their focus shift over the past year and we've been working on changing our engagement with them.
In a market expected to be worth nearly $600bn next year, concentrating on the hyperscalers still leaves a huge share of the global cloud industry at risk of being ignored.
Vendors need to be more aligned with VARs and MSPs who are seeking to carve out niches for their businesses in increasingly difficult industry conditions, helping them to maintain specialisms, relevance and credibility in the market by developing other competitive cloud solutions.
We were pleased to see Ofcom recently announce a probe into the hyperscalers as it assesses how well the UK cloud market is working and the nature of competition.
The regulator will be looking into features that might limit innovation, bar entry and hamper competition and growth in the cloud services sector. Ofcom is seeking the views from interested parties and we're looking forward to seeing the impact of their recommendations on the channel next year.
What are you most looking forward to about 2023?
For Creative, the best is yet to come. We've enjoyed phenomenal growth over recent years and I know the stage is set for that to continue.
We've established a global footprint across five continents, opening five new datacentres in the past 12 months alone.
We are currently expanding further into North America and Australia, and are developing a number of new solutions to help clients overcome mounting challenges as the marketplace and technology continue to evolve.
Next year will see us step up another gear, accelerating from high to extreme speed on our growth journey. As part of this, we're in discussions about potential investment to fuel our development, through both organic and inorganic routes. Watch this space.